Description
Electrical Characteristics:
1). The maximum output current: 2A
2). The input voltage: 2V ~ 24V
3). The maximum output voltage: > 28V
4). Efficiency: > 93%
Mechanical Properties:
1). Product size: 36 mm*17 mm*14 mm(L*W*T)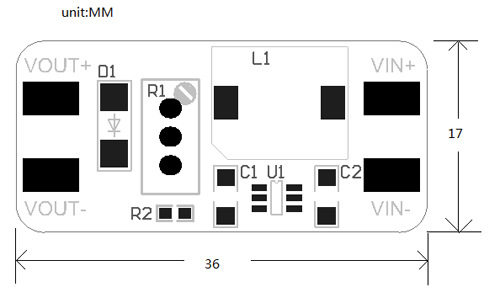 How to use it?
1). Connect the the IN+ and IN- of the module with 2~24v
2). Adjust the potentiometer to adjust the output voltage. Please be noted that the output voltage should be higher than the input voltage.
Notes:
1). The input voltage should not exceed the maximum input voltage
2). The peak current output current should not exceed maximum output current
3). If it doesn't work well, please rotate the potentiometer counterclockwise more than 10 turns at first before test.