2DM860H Digital Microstep Driver is newest digital stepper motor driver, using the latest 32-bit DSP control technology, the user can set any segment within 25600 and multi-range current value within rated current, with built-in micro technology, 2DM860 driver greatly improved stability and reduced noise under subdivision.
Integrating automatic parameter tuning function inside.it also can adjust the optimal operation parameters automatically for different motors to maximize the performance of the motor.
The 2DM860H is a two phase digital stepper driver based on DSP. Its Micro step resolutions and output current are programmable. And it has advanced control algorithm, which can brings a level of system smoothness, provides torque and mid-range instability. The control algorithm of Multi-Stepping can make stepper motor has smooth system performance. The control algorithm of torque compensation can improve the torque of motor in the high speed.
control algorithm of motor self-test and parameter auto-setup technology offers responses with different motors and easy-to-use. The control algorithm of smoothness can enhance the acceleration and deceleration of motor.
Its features make the 2DM860H to be an ideal solution for applications.
Features of 2DM860H Digital Microstep Driver :
– 32bit DSP  technology
– Optically isolated differential inputs (36LS32)
– Ultra-low noise and vibration
– Built 500 segments
– Can drive  4/6/8 lines 2-phase stepper motor
– Microstep :2-256
– Stationary current is automatically halved
– Pulse frequency response up to 250KHz
– Overvoltage,undervoltage,short circuit protection
– Alarm output function I/O ports
– Alarm clear input ENA
Electrical Data of 2DM860H Digital Microstep Driver :
| | | | |
| --- | --- | --- | --- |
| Instructions | Minimum | Typical | Maximum |
| Power voltage (VAC) | 30VAC (DC40V) | 60VAC (DC80V) | 80VAC (DC110V) |
| Output current (A)(peak) | 2.1 |   – | 8.4 |
| Logic input current (mA) |   – | 10 |   – |
| Frequency(KHz) |   – |   – | 250 |
| Pulase low level time(us) | 2.5 |   – |   – |
Environment data:
– Cooling : Natural cooling or forced cooling
– Storage temperature : -10~80 degree C
– Maximum temperature :65 degree C
– Humidity : <80%RH
– Vibration  :5.9m/sxs Max.
– Weight :  0.58kg
P1 input signal interface:
| | | |
| --- | --- | --- |
| Mark symbol | Function | Instruction |
| PLS+ | Input signal photoelectric isolation positive end | +5V power supply,can drive +5V~24V |
| PLS- | Step pulse signal | Falling edge effective, Motor take one step when pulse from high to low,  input 220Ohm,requirements:Low level0-0.5V; high level 4-5V,pulse width <2.5us |
| DIR+ | Input signal signal photoelectric isolation positive end | +5V power supply,can drive +5V~24V |
| DIR- | Direction control signal | To change motor driection,input 220Ohm,requirements:Low level0-0.5V; high level 4-5V,pulse width <2.5us |
| ENA+ | Input signal signal photoelectric isolation positive end | for +5V power supply,can drive +5V~24V |
| ENA- | Motor releases signal | Effective(low level),shut down motor coil current,driver stops,and motor is free. |
| ALM+ | Alarm output positive | Open-collector output |
| ALM- | Alarm output negative | Open-collector output |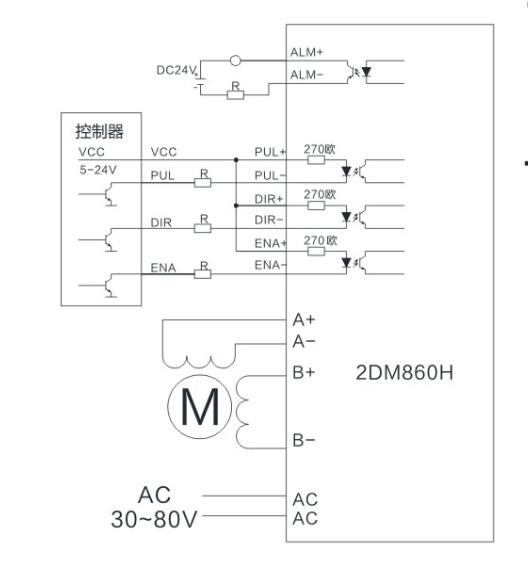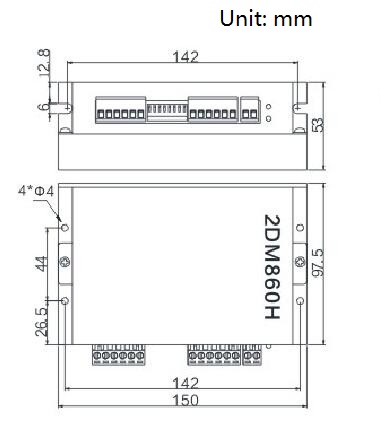 Package Contents:
– 1 x Microstep Driver
OTHER PRODUCTS
Finger Print Sensor R307 -TTL UART